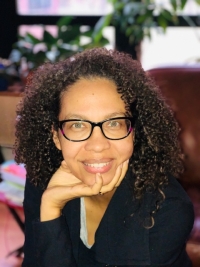 Oskar and The Eight Blessings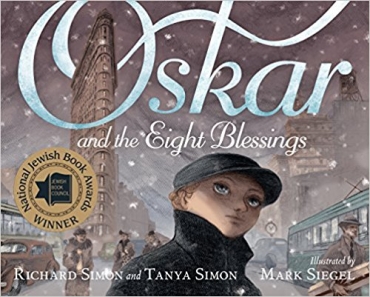 Winner of the 2015 National Jewish Book Award for Children's Literature

Junior Library Guild Selection 2015

2015 Best Children's Book, The Miami Herald

Jewish Telegraph Agency 2015 5 Best Books for Hanukkah

"Eloquently rendered in art and text. . . The descriptive prose has lyrical touches, while vibrantly accented, softly-shaded illustrations incorporate varying perspectives and historical details."
―Booklist, starred review
"A wonderful, heartwarming picture book for any library at any time of year."
―School Library Journal, starred review
"Wonderfully original in every way."
―Publishers Weekly, starred review
★ Publisher's Weekly
Oskar and the Eight Blessings
Richard Simon and Tanya Simon, illus. by Mark Siegel. Roaring Brook, $17.99 (40p) ISBN 978-1-59643-949-8
In the wake of Kristallnacht, Oskar's parents send him off alone to New York City to live with his Aunt Esther, who he has never met. The "terribly small" boy arrives on a December day in 1938 that's both the seventh night of Hanukkah and Christmas Eve, and makes his way 100 blocks up Broadway to reach his aunt's house. The final words of Oskar's father—"Even in bad times, people can be good. You have to look for blessings"—are affirmed as the boy crosses paths with eight New Yorkers from all walks of life (including cameos from Count Basie and Eleanor Roosevelt). The Simons' moving, reserved text is beautifully paired with Siegel's vivid, canvas-textured drawings, which borrow the dramatic framings and emotional energy of contemporary graphic novels. This is a book that's wonderfully original in every way—right up to the afterword providing historical context and a map of Oskar's walk. Ages 4–8. (Sept.)
★ Booklist
Oskar and the Eight Blessings.
Simon, Richard (Author) and Simon, Tanya (Author) , Siegel, Mark (Illustrator)
Sep 2015. 40 p. Roaring Brook, hardcover, $17.99. (9781596439498).
Eloquently rendered in art and text, this graphic-novel-style picture book relates the story of young Jewish immigrant Oskar who, after Kristallnacht, is sent by his parents to New York City to live with his aunt. Arriving from Europe on the seventh night of Hanukkah—also Christmas Eve—with just her address and picture, Oskar searches the big, bustling city for her home. Along the way he discovers unexpected kindnesses: a woman feeding birds shares bread, a man extends a helping hand after Oskar falls, until, finally, Aunt Esther sees him on the street and gives him a warm embrace. The descriptive prose has lyrical touches, while vibrantly accented, softly-shaded illustrations incorporate varying perspectives and historical details, such as Superman, Eleanor Roosevelt, and Oskar's charming encounter with Count Basie, whose whistling inspires Oskar to whistle back—"his first conversation in America." From poignant to hopeful, Oskar's experiences affectingly illuminate and convey his father's parting words: "Even in bad times, people can be good." Though the story's geared toward younger readers, the prelude's evocative, shadowy Kristallnacht depiction lacks explanation and may raise questions, so this may be best read with adult guidance. A brief glossary defines some terms, and a map of 1938 Manhattan pinpoints Oscar's path and the eight encounters—his blessings.
— Shelle Rosenfeld
★ School Library Journal
OSKAR AND THE EIGHT BLESSINGS
Author: Richard Simon & Tanya Simon
PreS-Gr 2–On the seventh day of Hanukkah in 1938, which also happens to be Christmas Eve, a young refugee boy named Oskar arrives in New York City from the horrors of Nazi Europe with only a photograph and an address to find an aunt he has never meet. As Oskar walks the length of Manhattan, from the Battery to his aunt's home in the north end of the city, he passes and encounters the city's many holiday sights and residents. Each person he meets offers Oskar a small act of kindness, such as the newsstand man who gives Oskar a Superman comic book. Each encounter is a reference to an event which took place in the city in 1938. A constant for Oskar is remembering his father's last words, "Oskar, even in bad times, people can be good. You have to look for the blessings." The majority of illustrations are presented in variously sized panels that move the story along, with inserts of long panel illustrations that serve as a glimpse of Oskar's experiences. VERDICT A wonderful, heartwarming picture book for any library at any time of year.–Diane Olivo-Posner Los Angeles Public Library
$9.99 USD