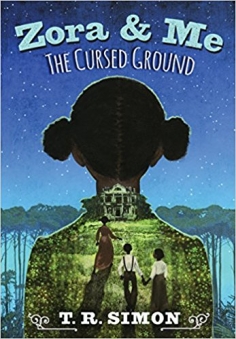 This powerful fictionalized mystery of Zora Neale Hurston's childhood adventures explores how speaking the secrets of slavery unlocks a future of freedom and truth for everyone.

2019 Edgar nominee in the category of Juvenile Mystery
Whippoorwill Book Award for Rural Y/A Literature
Junior Library Guild Selection 2018
Kirkus Reviews — Starred Review
The Horn Book — Starred Review
Shelf Awareness — Starred Review
School Library Journal — Starred Review

Beautifully written — New York Times Book Review
The voices of Zora, Carrie, Lucia, and their families and friends make for powerful, unflinching storytelling, worthy to bear the name of a writer Alice Walker called a "genius" of African-American literature. An extraordinary, richly imagined coming-of-age story about a young Zora Neale Hurston, the long, cruel reach of slavery, and the power of community.
Kirkus Reviews
—
Starred Review
Simon keeps the plot moving briskly and sustains suspense even as she folds in truly profound, timely, and important themes; and one of the things Zora and Carrie have learned by book's end is that "history wasn't something you read in a book. It was everything your life stood on."
The Horn Book
—
Starred Review
This stunning sequel to
Zora and Me
is a fictionalized mystery based on Zora Neale Hurston's childhood and includes a biography of Hurston as well as a timeline of her life. T.R. Simon's writing does elegant justice to the grownup Hurston's genius as a writer as well as to the character she apparently was as a child.
Shelf Awareness
—
Starred Review
Simon offers keen insight into how the past affects the present, no matter how many years between them.
School Library Journal — Starred Review
Indeed, this is a powerful story that will stick with readers.
School Library Connection— Recommended
When Zora Neale Hurston and her best friend, Carrie Brown, discover that the town mute can speak after all, they think they've uncovered a big secret. But Mr. Polk's silence is just one piece of a larger puzzle that stretches back half a century to the tragic story of an enslaved girl named Lucia.